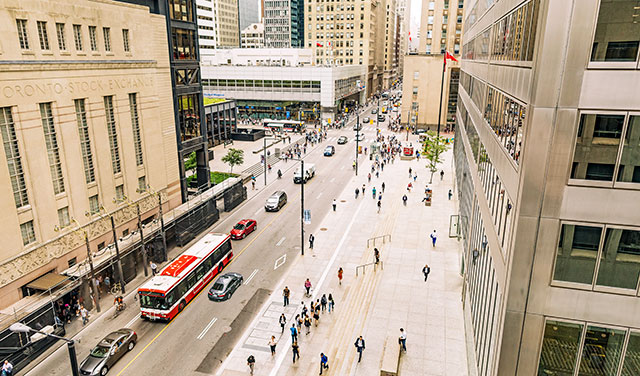 Located in the heart of Toronto's downtown core, Seneca Downtown offers graduate and professional-level programming designed to help you get ahead in your career.
This new location is conveniently located at Workhaus Commerce Court, an entrepreneurial co-working space in downtown Toronto. Benefit from direct PATH access to Union Station, GO Transit, TTC, food court and much more.
Downtown courses

starting January 2020.
Graduate Certificates
Full-time programs (8 months)
Gain career-focused education and industry experience in just eight months. A full-time graduate certificate is the ideal choice for postsecondary graduates.
Part-time courses (3 months per course)
Benefit from flexible, accessible and career-focused education with the option to register in our part-time graduate certificate programming on a course-by-course basis to study at your own pace.
Cybersecurity & Threat Management
Financial Technology
Certification & Professional Development

Courses
(1-3 months)
Explore industry-driven certification prep courses for designation and licensing credits, or specialized professional development offered in the early mornings or evenings to suit your schedule.
Workshops
(1-2 days)
Add specific tools and techniques to your expertise through weekend workshops. Workshops are one to two days in length and are taught by current industry experts.
Seneca Downtown @ Workhaus Commerce Court

30 Wellington St. W., 5th floor
(Commerce Court South)
Toronto, ON M5L 1E2

Questions? Contact Us

senecadowntown@senecacollege.ca
416.493.4144
NEED MORE INFORMATION?
CONTACT US.